Female Figure of the Early Spedos Type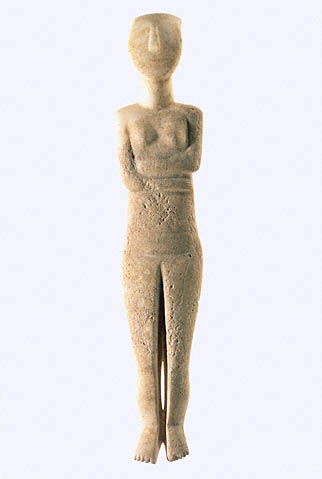 Cycladic, 2600 - 2500 B.C. Marble.
Reclining with her arms crossed, this female figure is typical of the sculpture of the Cyclades in the mid-2000s B.C.
Scholars have divided Cycladic sculpture into groups or types indicating stylistic and chronological developments.
Named for a cemetery on the island of Naxos, the Spedos type figure developed out of the preceding Kapsala type.
This early example of a Spedos figure shows the typical traits of elongated proportions, a lyre-shaped head, and a deep cleft, only partially cut through, between the legs.
The horizontal groove across the belly is unique.
Today most Cycladic figures appear to have only minimal facial features or other details.
This figure's painted facial features, hair, and jewelry, however, convey the original decorated effect.
Rows of red dots running across the forehead and both cheeks may be tattoos.
A line of dots under the nose might be the mouth, a very unusual feature.
The same red pigment is preserved in the line of the backbone and in the crease where the neck joins the head and shoulders.